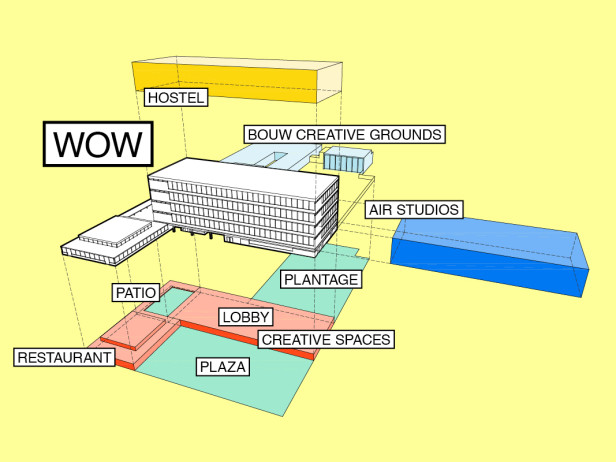 Creative Building
WOW Amsterdam is an exciting new place in Amsterdam-West where the city's people, travelers, temporary guests and resident artists come together to sleep, eat, work, share, relax, inspire and more.
Location
WOW is situated in Amsterdam's Kolenkit neighborhood and is surrounded by a mix of cultural initiatives. Located in a high-rise block of the former Polytechnical School on the Wiltzanghlaan, WOW combines 50 hostel rooms with an art residency program for 50 recent graduates of art institutions like the Gerrit Rietveld Academie, the Sandberg Instituut, and the various departments of the Amsterdam School of the Arts. WOW is a place for new discoveries, new talent, and hidden treasures.
The program
The ground floor includes a restaurant and bar, and a dynamic cultural program of art exhibitions and performances. The open spaces that connect to the ground floor provide room for an aromatic herb garden, an inner courtyard for urban farming, and a forecourt for food markets.
Creative platform
WOW provides a platform for creative talent in Amsterdam and offers a varied program that matches the multidisciplinary character of its inhabitants and visitors. There is room for experimentation, a variety of crossovers, and the introduction of refreshing new concepts.
Initiative
WOW is an initiative of Amsterdam-West, Bureau Broedplaatsen Amsterdam and Stichting WOW Amsterdam.
Related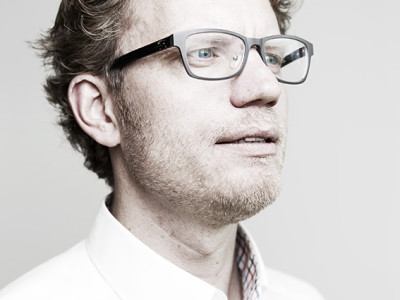 Arjan van Ruyven
Meet Arjan van Ruyven, the architect responsible for the transformation of the former polytechnical school (HTS) into WOW. This…